Home > impact on women / resistance > Visegrad Commemoration 2008
16th anniversary of the crimes committed against the Bosniak civilians from Višegrad
Visegrad Commemoration 2008
Women in Black in solidarity with victims of fascist politics
Wednesday 18 June 2008, by Persa Vučić, Senka Knežević
[introductory note
With the end of secular Yugoslavia , the notion of citizenship disappeared. Neo fascist forces rose, calling for the separation and the displacement of those who did not belong to the same religious or ethnic groups, then for their physical elimination and eradication.
During the two wars in ex Yugoslavia ( in Bosnia and in Kosovo), civilians were slaughtered on the basis of their religious and/or ethnic identity.
During these wars and till now, the Women In Black in Belgrade ( now Serbia) stated their solidarity with the victims and helped them to the best of their abilities, proclaimed their attachment to republican values and their opposition to militarist fundamentalist forces.
For this they were labelled ' traitors' and , till today, they are persecuted by the state and by extreme right non state actor forces.
-siawi.org ]
Women in Black - Serbia
On May 24, 2008 Women in Black Network – Serbia activists began once more their trip to Višegrad. The occasion is the 16th anniversary of the crimes committed against the Bosniak civilians from Višegrad and surrounding areas. Within only a few days, three thousand innocent Bosnians were killed. The youngest victim was only 2 days old. Standing on the bridge (which was made world-famous by Nobel Prize Winner Ivo Andrić), we joined together with members of the association "Višegrad '92" as well as members of other associations composed of Bosniaks who fled from the Višegrad region, to pay tribute to the Bosnian civilians who were killed here, and to share our empathy with the families of the victims.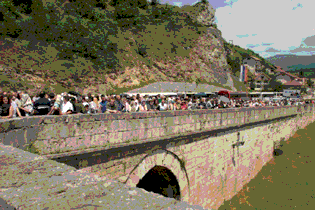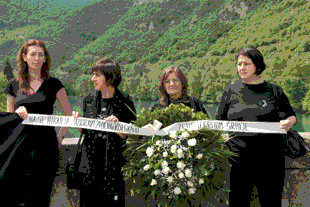 Activists of the Women in Black Network come to Višegrad each year on the 24th of May, and on the 25th of May, they participate in a commemorative gathering. Various journalists also travel with the Women in Black Network, and this year a representative of the Humanitarian Law Center was there as well. This event brought together prominent politician Zeljko Komsić, as well as leaders of the Islamic Community of the Federation of Bosnia and Herzegovina; journalists and reporters also participated.
At the gathering, we demanded that all war criminals be held responsible for their deeds, including those from Višegrad. We named in particular the owner of the restaurant "Lovac" in Višegrad.
The president of Women in Black, Staša Zajović, accused Serbian politicians of not cooperating with the Hague tribunal, of sheltering criminals, of refusing to extradite the accused to the court at Shevenignan, and of continuing the type of fascist politics practiced by Slobodan Milošević.
After the commemoration was finished, members of the associations joined with the victims' families, who were forced to flee Višegrad and what is now Republika Srpska, to throw 3,000 roses in to the Drina River.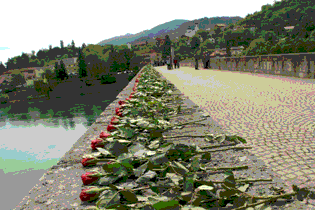 Afterwards, Women in Black threw a wreath made of white roses into the river, and then we all went to the Višegrad cemetery. Women in Black activists spent two hours there with the families of the victims. Everyone surrounding us gave us warm looks, greetings and hugs. They expressed their gratitude for our presence at the commemoration, for showing respect for the innocent Višegrad Bosniaks, and for our sincere compassion for their families.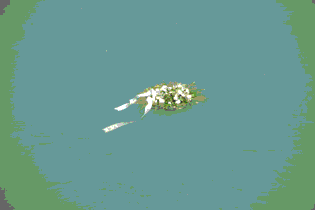 Upon our departure from Višegrad, Women in Black Network activists were given presents and provisions for the journey home, as well as the desire for a reunion in the future. We said our goodbyes with kisses and hugs.
Written by: Persa Vučić
Women in Black - Serbia
Višegrad – May 25, 2008
Our group is in Višegrad again this year … For the past sixteen years, streams of displaced persons and members of their families from all over wounded Bosnia gather on this famous bridge in May, and their number is terrifying. Out of the three thousand that were killed or that disappeared in Višegrad, six hundred were killed on Vezir's or Andric's bridge, from babies to elderly people. Yes, babies. The human brain cannot imagine these images. Before these, our terrible crimes, took place, I tended to confine my knowledge of terrifying Nazi-crimes to history. Then, everything happened again, burst into flames right in front of us. There it is - the horrifying history of the Second World War, repeated by us, from the Former Yugoslavia. So we are here today, not to enjoy this beautiful day in May, not to appreciate this beautiful piece of architecture, nor to watch the moody Drina River and take a walk on the surrounding paths and enjoy the beautiful landscape.
We – a group from Serbia (Women in Black and the Fund for Humanitarian Rights), we are standing today on this bridge to be silent, to be ashamed, bowing our heads, like the red roses placed all over the bridge walls. Roses – murdered and vanished. I see these roses lined up on the bridge, and their buds are bowed down towards the water. I see them as people. People-roses. There is also our wreath with a bunch of roses.
There are many people on the bridge. They keep arriving. They are silent. They sigh. On the bridge there are people who should remind us that those horrifying crimes cannot be forgotten. Amongst the speakers are also our Jelena and Staša. They are overwhelmed by the extra attention, as are all of us. This attention hurts, this warmth they show toward us, filled with gratitude and respect; as much as I tried to restrain myself, each time I squirm on the inside, I am full of shame and pain, I shiver from so much tenderness and care. Can you imagine it – they are taking care of us. Gracing us with their glances, they offer us food and drinks, and they thank us again, they wait to hug and kiss us. That is simply inexplicable. It is the same in all these places where crimes have been committed in Bosnia.
I hear Staša's words. They are clear and full of pain. They are seeking forgiveness. Her voice breaks as she speaks, I have a feeling she has to make her voice calmer so that it doesn't give her away, so that she does not scream, scream so loudly as to be heard in the heavens. Now the soft-spoken Jelena is addressing the gathered people. We are all breathless. Silence. It is not easy to stand in front of these people and to tell them words of consolation when we are from the side where all those perpetrators came from, those who did all these terrible deeds and made all the valleys and hills shake from pain.
We heard that the Minister for Refugees and Displaced Persons of Republika Srpska is here to represent officials. He is from Republika Srpska, whose creation and foundation are built on crimes. Zeljko Komsic, who loves and protects his Bosnia, came from Sarajevo. We all want to greet him.
We are going to a cemetary. Again, a crowd of people is there. The same story when it comes to our presence there – they are bringing us bread and juice, so that we are not hungry. There, near to where they found and buried their loved ones, the displaced victims come back once a year to visit their town, to visit death. If they can and are allowed to, they visit their houses or what remains of their houses; some of them tend their gardens, and after that they wait another year. And it is going to be like that for the rest of their lives.
Next to the cemetery, there is a school. It is place of humanity and a place to acquire knowledge. I heard that a person who killed two children still works there. If they stayed alive they would be young adults by now, with dreams and plans. Their mother sits next to us. I heard that she can't live anymore, but she has to. We know that villains are walking around and living freely. They are waiting for silence and oblivion to cover it all — they divided their plunder, and now they behave with such arrogance, as if to say 'nobody can harm us.'
On our way back, the famous Drvengrad the road is crowded with buses. I see many children that came to have a picnic today, the 25th of May. They came there, so close to the terrifying sites of crime. It came to me last night that on this day we used to celebrate Dan Mladosti (Tito's birthday/Day of youth). Maybe those children had a good time in Drvengrad, but somebody should bring them to the banks of Drina and tell them at least one story of what happened there, so that they don't forget what is written on the walls of Dachau: 'The one who forgets the crimes is ready to repeat them'.
Written by Senka Knežević upon our return from Višegrad, in the night of 25th May, 2008