Home > Resources > Leaving Fundamentalism: Personal Stories
Leaving Fundamentalism: Personal Stories
Friday 15 May 2009, by siawi
Wilfrid Laurier University Press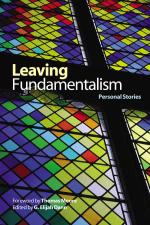 by G. Elijah Dann, editor
$24.95 Paper, 229 pp.


ISBN13: 978-1-55458-026-2


Release Date: May 2008
Finalist for the 2008 ForeWord Magazine Book of the Year Award in the Religion Category
Book Description
In a time when religious conservatives have placed their faith and values at the forefront of the so-called "culture wars," this book is extremely relevant. The stories in Leaving Fundamentalism provide a personal and intimate look behind sermons, religious services, and church life, and promote an understanding of those who have been deeply involved in the conservative Christian church. These autobiographies come from within the congregations and homes of religious fundamentalists, where their highly idealized faith, in all its complexities and problems, meets the reality of everyday life. Told from the perspective of distance gained by leaving fundamentalism, each story gives the reader a snapshot of what it is like to go through the experiences, thoughts, feelings, passions, and pains that, for many of the writers, are still raw. Explaining how their lives might continue after fundamentalism, these writers offer a spiritual lifeline for others who may be questioning their faith.
Foreword by Thomas Moore
About G. Elijah Dann
G. Elijah Dann has taught in departments of philosophy, religion, and health studies at various universities in southern Ontario, and most recently was Visiting Research Fellow at the Centre for Studies in Religion and Society, University of Victoria. He is the author of After Rorty: Possibilities for Ethics and Religion (2006) and co-editor of Philosophy: A New Introduction (2004). He is presently completing a book on the role of religious values in the public square.
Reviews
"Who'd have thought a collection of stories about fundamentalism could be such a good read? Elijah Dann is not only a fine writer himself, but his ability to select compelling narratives by other ex-fundamentalists shows the acumen of a splendid editor."


— Eric McCormack, novelist, author of The Dutch Wife
"Fundamentalism, in its anxious search for inviolate truth, commands submission to a supposed objective and unmovable power outside of the mysteries of human fragility, struggle and wisdom. It is no friend of the poetry of authentic human story which searches the ways of truth through deep engagement within the realities of life. "Leaving fundamentalism" gives witness to the hard work of uncovering and embracing the mysterious and vulnerable truth of human story. The both frightening and lovely thing about "leaving fundamentalism" whatever the direction of the human and spiritual journey afterward, is that the leaving is an awakening to the pain, challenge and joy that comes as though one has finally been given permission to be fully human. This collection draws us into the beautiful complexities of individual journeys united in their liberating encounter with the mystery, ambiguity and poetry of life itself and is to be commended for the courage of its authors."


— Eileen Scully (PhD), Coordinator for Ministry and Worship, The Anglican Church of Canada
"Thoughtful essays about the experiences of those who have abandoned conservative Christianity.... Do not skip Dann's introductory essay, an excellent definition of contemporary Christian fundamentalism. It also summarizes the movement's political context—this is particularly useful as we approach a U.S. election. Why should you read this book? It will ... help us reach out to those whose religious experience has not included open discussions of faith issues."


— Rev. Lee Simpson, United Church Observer
"This book will enlighten ex-fundamentalists along with those having no experience in the movement.... [It] will give non-fundamentalists some astonishing insight into how otherwise rational, humane people might plunge into such an anti-rational, harsh world view, and why its so hard for them to escape. But for former fundamentalists, reliving their our own traumatic experiences through these stories, the understanding will go much deeper. We will think to ourselves, in relief and empathy, I was not alone."


— Confessions of a Cultural Idiot Blog
Wilfrid Laurier University Press, 75 University Avenue West, Waterloo, ON, Canada, N2L 3C5


Phone: 519-884-0710 x6124 — Fax: 519-725-1399 — Email: press wlu.ca