Home > Resources > Questioning the Veil: Open Letters to Muslim Women
Questioning the Veil: Open Letters to Muslim Women
by Marnia Lazreg
Wednesday 16 September 2009, by siawi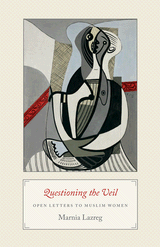 Cloth | 2009 |


184 pp. | 5 1/2 x 8 1/2
Across much of the world today, Muslim women of all ages are increasingly turning to wearing the veil. Is this trend a sign of rising piety or a way of asserting Muslim pride? And does the veil really provide women freedom from sexual harassment? Written in the form of letters addressing all those interested in this issue, Questioning the Veil examines the inconsistent and inadequate reasons given for the veil, and points to the dangers and limitations of this highly questionable cultural practice. Marnia Lazreg, a preeminent authority in Middle East women's studies, combines her own experiences growing up in a Muslim family in Algeria with interviews and the real-life stories of other Muslim women to produce this nuanced argument for doing away with the veil.
Lazreg stresses that the veil is not included in the five pillars of Islam, asks whether piety sufficiently justifies veiling, explores the adverse psychological effects of the practice on the wearer and those around her, and pays special attention to the negative impact of veiling for young girls. Lazreg's provocative findings indicate that far from being spontaneous, the trend toward wearing the veil has been driven by an organized and growing campaign that includes literature, DVDs, YouTube videos, and courses designed by some Muslim men to teach women about their presumed rights under the veil.
An incisive mix of the personal and political, supported by meticulous research, Questioning the Veil will compel all readers to reconsider their views of this controversial and sensitive topic.
Marnia Lazreg is professor of sociology at the Graduate Center and Hunter College, City University of New York. Her books include The Eloquence of Silence: Algerian Women in Question and Torture and the Twilight of Empire: From Algiers to Baghdad (Princeton).
Endorsements:
"A wonderful read: well-written, well-constructed, well-argued, and highly significant. Lazreg addresses a controversial topic and takes intellectual risks. This little gem of a book is brilliant."—Sondra Hale, University of California, Los Angeles
"Clearly expressed and convincing, this book makes arguments and counters opposing views in a subtle, gentle, and imaginative way. Readers will find the book fascinating and will be drawn to its personal nature and elegant answers."—Judith Herrin, King's College London
Table of Contents:
Acknowledgments ix


Introduction 1


Letter One: Modesty 15


Letter Two: Sexual Harassment 41


Letter Three: Cultural Identity 53


Letter Four: Conviction and Piety 67


Letter Five: Why Women Should Not Wear the Veil 97


Notes 133


References 147


Index 153
Another Princeton book by Marnia Lazreg:
* Torture and the Twilight of Empire: From Algiers to Baghdad.
Subject Areas:
* Sociology
* Political Science and International Relations
* Middle Eastern Studies
* Religion
* World History / Comparative History
* Anthropology
For customers in the U.S., Canada, Latin America, Asia, and Australia
Cloth: $22.95 ISBN13: 978-0-691-13818-3